You probably know AT&T as a company that provides phone service, but the international corporation is also one of the nation's biggest providers of home security alarm services. The brand calls its service Digital Life, and it offers pro installation as well as 24/7 monitoring.
Despite the big name, customer service ratings are low, and the Security Nerd who tested out the customer service from AT&T found quite a few flaws in the system.



The AT&T name may make this alarm system attractive to homeowners who already use the company's phone and internet service. But your brand loyalty will be tested against poor customer service, a confusing sales process and a pricey monitoring contract that will lock you in for several years.
Here's how we graded AT&T Digital Life:
Hardware: 3.5 out of 5 stars. AT&T Digital Life offers motion and contact sensors as part of its basic alarm package, as well as a keypad and indoor siren. Additional security, such as cameras or monitors for carbon monoxide, cost additional money. Customers seem happy enough with the equipment, but getting all the components you need comes at a price.
Customer Service: 2 out of 5 stars. Navigating the AT&T Digital Life site is cumbersome. Products are not all listed on the website, and a requirement that you share your home address to check availability resulted in repeated website errors for our Security Nerd. The customer service line is also problematic, hanging up on our Nerd multiple times without a human ever getting on the line. The only other option is an online chat service, which does work, but is clearly manned by a bot rather than a real human. Not great.
Pricing: 3 out of 5 stars. With no installation or activation fees, AT&T Digital Life users save a little at the outset. But the requirement of a two-year contract at $39.99/month can add up quickly.
The Mobile App: 3 out of 5 stars. When customers talk about consistency with the Digital Life app, they're talking about how consistently it does not work. Recent updates have resulted in an avalanche of terrible reviews.
SmartHome Capabilities: 2.5 out of 5 stars.

AT&T offers a smart door lock but smart home integrations are otherwise limited. Alexa services are turned off for most alarm-related products. 
AT&T Digital Life fees & features
|  | Smart Security | Smart Security and Automation | Premium Security and Automation |
| --- | --- | --- | --- |
| Monthly Price | $39.99 | $54.99 | $64.99 |
| Equipment cost | $349.99 | $549.99 | $849.99 |
| Installation Fee | $0 | $0 | $0 |
| Installation | Pro Install | Pro Install | Pro Install |
| Mobile Access | Yes | Yes | Yes |
| Smoke and CO Monitoring | No | No | Yes |
| Medical Pendant | No | No | No |
| Video Monitoring | No | 1 outdoor camera | 1 outdoor camera |
| Motion Sensors | 1 | 1 | 1 |
| Door/Window Sensors | 4 | 7 | 10 |
| Doorbell camera | No | No | No |
| Smart Home Integration | No | 1 keyless door lock | 1 keyless door lock; 1 smart thermostat; 2 indoor smart plugs |
| 24/7 Monitoring | Yes | Yes | Yes |
| Contract Length | 2 year required with up to $640 early termination fee | 2 year required with up to $640 early termination fee | 2 year required with up to $640 early termination fee |
| Warranty | Lifetime warranty | Lifetime warranty | Lifetime warranty |
| Yard Signs | Yes | Yes | Yes |
AT&T has been in business since the 1980s, so you know this isn't a fly-by-night security company that's going to walk off with your money.
Our SecurityNerd placed repeated calls to AT&T Digital Life support over a series of days. Each time, the phone system hung up before a live person got on the call to answer any questions. The site does offer a live chat option, but the stilted answers and poor grammar makes it clear you are talking to a bot rather than to a real person.
Equipment available from AT&T
AT&T Digital Life offers one basic package for $549.99, which they say includes $700 in hardware. The system can be built on with the addition of extra sensors for glass breakage and carbon monoxide, as well as cameras and a smart door lock. The products all come with a lifetime warranty.
Basic Security System
2 contact sensors
4 window sensors
1 keypad
1 motion sensor
1 indoor siren
More Advanced Products
Glass break sensor
Carbon monoxide sensor
Active doorbell
Indoor cameras
Outdoor cameras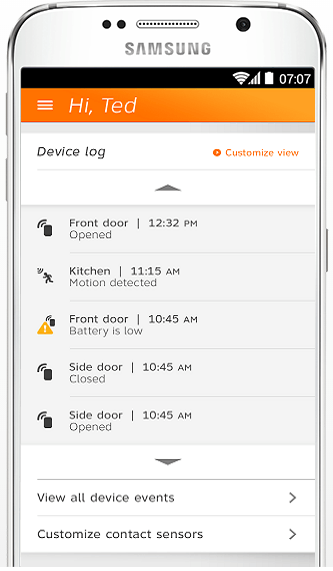 AT&T Digital Life offers its own app, which powers not just the alarm system but add-ons such as indoor and outdoor cameras.
This mobile app from AT&T has a:
4.1 rating in the Google Play Store
3.3 rating in the Apple App Store
Despite average review ratings, reviews for the app seem to have taken a nosedive in recent months, especially since making updates. As it stands, AT&T promises the app users can:
Arm and disarm the alarm system
Set up text and email notifications
View cameras remotely
Manage smart locks
Review device logs
In the app-store reviews, the biggest complaints relate to crashes and a system that logs them out and won't let them back in.
AT&T smart home capabilities
The AT&T Digital Life system has very limited smart home capabilities, so if you're looking to control lights and thermostats from your app, AT&T might not be the company for you. Here's are the smart home features available:
Door Lock: You can lock and unlock the front door from your app.
Alexa integration: Digital Life is integrated with Alexa, but Alexa-enabled devices cannot disarm alarms, unlock doors, open garage doors or control Digital Life cameras.
AT&T Digital Life customer service
AT&T Digital Life boasts 24/7 customer service, but our Nerd experienced a long list of issues trying to get in contact with an actual human being to get questions answered.
To test customer service, the SecurityNerds tested each of the following processes:
Sales and service: AT&T Digital Life customers are not shy about their issues trying to contact customer service and difficulty getting answers out of the company. Our Nerd placed multiple calls over a series of days to the AT&T Digital Life toll-free number. After going through an automated system and selecting different numbers, the system continuously hung up on our Nerd without a human ever getting on the phone. Turning to the company's live chat was more successful, with our Nerd contacting them several times throughout the day via the live web chat. However, the live chat is clearly run by a bot rather than a bona fide human being.
Design: The basic hardware is comparable to other alarm companies with no real extra bells and whistles. The app looks nice, but constant crashes make it difficult to use, and customer complaints are many, especially after recent updates.
Installation: Customers are overall pleased with the installation process from AT&T. Because it's done by professionals, there's no muss or fuss for the homeowner, and the pros offer a walk-through when they're done to make sure you know how to use the system before they leave.
AT&T Digital Life covers the following areas
Service is advertised as nationwide, however the company requires you to share your address to check availability. A more specific list of coverage areas was not available.
AT&T Digital Life pricing and packages
When purchasing a security system, here are the key costs to consider:
Equipment costs: The basic alarm system from AT&T Digital Life is $549.99, which the company says covers $700 worth of equipment. Additional products, such as cameras and CO monitors, can be added on.
Installation costs: AT&T does not charge an installation fee
Monthly costs: AT&T requires a two-year contract for new customers with a monthly fee of $39.99.
Activation fee: Some security system companies charge activation fees. AT&T does not.
In addition to the basic alarm system bundle, you can purchase some equipment to add on to your home security system. Here are the individual prices:
| | $ / unit |
| --- | --- |
| Indoor siren | $49.99 |
| Window Sensor | $9.99 |
| Motion Detector | $19.99 |
| Glass Break Sensor | $29.99 |
| Carbon Monoxide Sensor | $39.99 |
| Interior HD Camera | $249.99 |
| Outdoor HD Camera | $199.99 |
| Keyless Door Lock | $29 |
| Indoor siren | $49.99 |
| Window Sensor | $9.99 |
| Motion Detector | $19.99 |
| Glass Break Sensor | $29.99 |
| Carbon Monoxide Sensor | $39.99 |
Bundles vary depending upon the time of year, but can offer significant savings from the retail price. Camera purchases and other add ons can only be made after you purchase the base package, and you will incur an additional monthly fee.


It's got a big name that's nationally known and provides professional installation and 24/7 monitoring, but AT&T's customer service leaves a lot to be desired. A smaller, local company or another national name may offer the same pro installation and monitoring with the addition of helpful staff.
When shopping for a home security system, there tend to be four options:
A large, national player like AT&T Digital Life. Depending upon the time of year, you would likely get a lower price at AT&T Digital Life thanks to their package deals, but you won't get personalized service. Of course, there are other large national players to consider if you do want to go this route. If home integration and high tech bells and whistles are important to you, a company like Vivint will be more likely to provide what you're looking for in a home security service.
A medium-sized, local player such as Guardian Protection. It tends to be a bit pricier, but you get local service.
Very small full service local home security companies. Prices and customer service vary widely. You'll want to ask around and talk to your neighbors to see if they can suggest a reputable company in your area.
DIY: Some national, high-tech low-cost companies, such as Ring or Frontpoint, now offer low cost DIY installation options plus monitoring that can be done on your own or by the company. Frontpoint, in particular, is well known for having stellar customer service.
Jeanne Sager
Jeanne Sager is a writer and photographer from upstate New York. You can find her on Twitter or Instagram at @jeannesager.